9 Tips to Keep Ice for a Week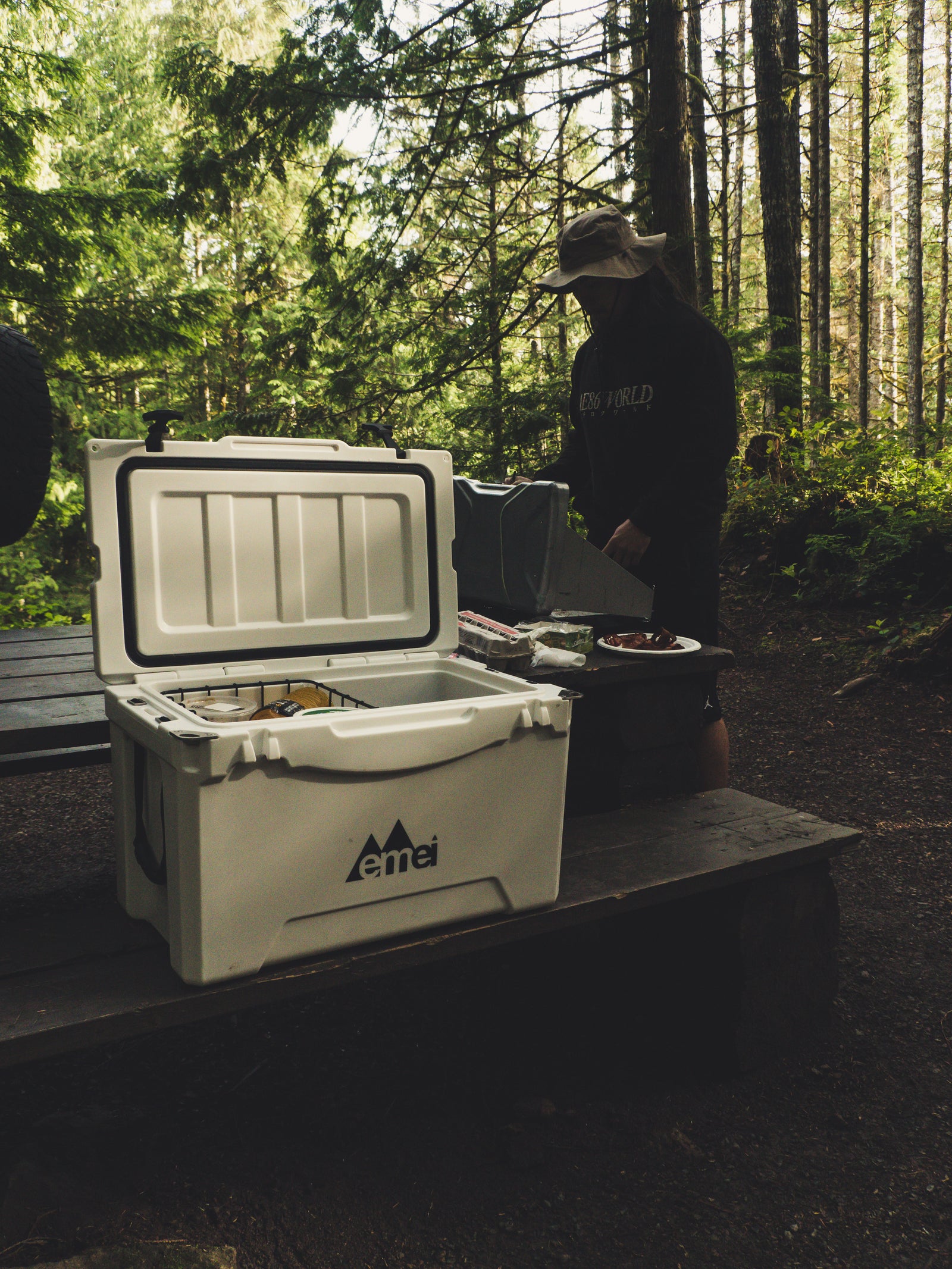 EMEI coolers are bombproof, but durability isn't the only the reason you buy an EMEI. Like most other rotomolded coolers, the Iceboxes have outstanding thermal properties that make our coolers world class and set EMEI apart from your Canadian Tire (Yes, we're Canadian) coolers.
EMEI coolers are among the best insulated coolers on the market today (up to 2 inches or more of polyurethane insulation in the walls and lid of most sizes), plus commercial grade freezer sealing gaskets. However, if you don't know what you're doing, you can easily see your ice disappear in 3 days instead of 7.
So here are the 9 rules to live by to keep ice like a pro!
MAKE SURE YOUR COOLER IS COOL - WARM COOLERS MAKE ICE MELT
Warm coolers waste a significant amount of ice cooling the cooler itself. Preload your cooler a few hours prior to use with a sacrificial bag (or block) of ice to cool it down.
TWICE THE ICE IS ALWAYS NICE
Making sure you use enough ice in your cooler is key. We recommend following a 2:1 ice-to-contents ratio. This means that one-third of your cooler can hold your cold drinks and food while the other two-thirds should be filled with ice if you fill the cooler completely. The more ice you use, the longer it will last.
DRIPPY ICE WON'T LAST LONG
Warm ice (around 0 °C or 32°F) is typically wet or dripping and won't last long. Ice that is colder than the freezing point is relatively dry and will last substantially longer. Don't put warm, wet ice in your cooler and expect it to last a week. Coolers can't make ice, they're designed to keep it
A MIX OF BOTH - BLOCK ICE VS. CUBED ICE
Smaller, cubed ice will chill a cooler and the contents more quickly, but block ice melts at a much slower rate. Most pros use a mix of both to chill contents and achieve long-term ice retention.
AIR IS THE ENEMY – PACK THAT THING FULL
Large areas of air inside your cooler will accelerate ice-melt as the ice is consumed cooling the air. These spaces are best filled with extra ice, towels, or crumpled newspaper if weight is a concern.
WATER IS YOUR FRIEND - DON'T DRAIN THE WATER
Once your cooler is in use, DO NOT empty the cold water. The water helps to insulate the remaining ice. However, exposed food and meat should be kept out of the water.
A COOLER IN THE SUN KILLS YOUR FUN
Keep your cooler out of direct sunlight when possible. Ice can last up to twice as long in the shade. Some pros even use tarps or towels to cover their coolers when they can't find a shaded spot.
LIMIT IN AND OUT PRIVELAGES
Every time you open the cooler, you are exchanging the cold air inside for warm air outside that must then be cooled, causing faster ice-melt.
DRY ICE IS BEST
All EMEI coolers are dry ice compatible. When used in conjunction with an EMEI cooler, dry ice can keep food and drinks cold and frozen longer than regular ice.
---